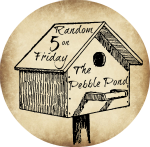 1. I did it!
I must admit I am pretty proud of myself. It hurt like the dickens but I only winced a few times. I have gotten some criticism but I really love it. I have had quite a few people ask me why I got it. Well it has meaning for me.
You see, Lilies grow wild. They are beautiful and not contained. But they can be. They grow just as beautiful in a garden. First, I have always had a bit of a wild side. A little bit of danger has always been a bit exhilaration to me. I love with all my heart and I am very passionate about everything I do. I don't fit into any personality box or any box actually. I am just....me. Second, grown in a garden they are contained but lovely. God roped me in, planted me in a garden. I am still free to be me but a bit more contained. Directed by God instead of myself. (Never said perfect but definitely a work in progress!) Third, I love flowers. I love to garden. I love nature. Last but definitely not least, on summer days the kids and I love to drive old country roads doing "photo runs", having picnics and picking wildflowers. Usually Wild Lilies. They grow crazy insane out here!
So yes, for the rest of my life I will see a Lily on my foot and the memories and reminder of who I am will be exhilarating!
2. My yard looks unfamiliar to me. It is NOT covered in snow and I am loving it! There is always sun today!
3. I bought another Math Curriculum yesterday. Can you say addiction?
4. I need a new project. Any ideas?
5. Brian gave me a wonderful Valentines Day. He bought me flowers, a picture, a huge heart filled with chocolate and then took Monday off for me to go get my hair done. He even did school with the kids. Love him to the moon and back!
Considering linking up?
Here are the rules. They are simple.
~ Link up your Random 5 on Friday post.
~ Add a link back to me somewhere in your post.
~
Please make sure to put the direct link to your blog post not just your blog
. I like to read and comment on all of you but I can not always do it right away and I do not have time to look for it. Thanks!
~ Visit, Visit, Visit! Have fun encouraging each other. :)