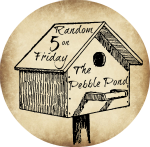 1. The weather is crazy here! Below zero and loads of snow. Pretty but Cold. Hello Winter.
2. School starts on Monday. We are pretty excited about that. I must admit though I have really liked this long break. I'm excited for a bit more routine around here but who doesn't love sleeping in and the feeling of extra hours in a day!?
3. I printed out a calendar and some odds and ends to put in my Home Management Binder. I need to take some time and start over with it. I kind of got lazy. I would like to do a blog post about it in the future too.
4. I ordered pizza for dinner. After I spent 2 hours at the grocery store. Don't judge.
5. I would really love to blog more about homesteading. I am only in the very, very, very beginning stages so I am not even sure WHAT I would blog about but it intrigues me so much. Maybe I could blog about my journey as I learn along the way. What do you think?
Are you considering linking up? I would love for you to join in!
Here are the rules. They are simple.
~ Link to your Random 5 on Friday post.
~ Add a link back to me somewhere in your post.
~
Please make sure to put the direct link to your blog post not just your blog
. I like to read and comment on all of you but I can not always do it right away and I do not have time to look for it. Thanks!
~ Visit, Visit, Visit! Have fun encouraging each other. :)

Don't miss any of our crazy adventures!