Can you believe it is the last day of January already! Time flies when you are having fun.
I hope everyone had a great week! Are we ready for more randomness? Here we go...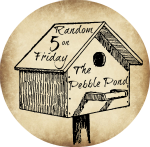 1. Yesterday we ate out for lunch AND dinner. Ouch.
2. I already filed our taxes! I was on it this year. Now to wait for the money and then...then...we can start really looking at houses! Eek! I'm a little bit excited.
3. All of my children are almost as tall as me. Something NEEDS to be done about this. (Psst..honey, a baby is very much needed. Like ASAP!)
4. Do you watch Downton Abbey? I am in love. Seriously. I hate TV. We watch family movies sometimes but I hate to just sit in front of the TV but Downton Abbey.....its just different. I watch it through Google Play on my phone. Well I ended up buying the whole season because it was cheaper. It usually shows up on Google Play on Monday. So that would be the day after it actually airs on TV. WELL...on Monday they sent me the rest of the season! Say what!?
It was such a dilemma. Do I watch it all or just an episode a week? I may have lost sleep over this decision. Needless to say, I now have to wait a YEAR to watch season 5. Have mercy.
5. In my attempt to save money, I may have turned into a crazy person. I think I searched for a coupon for just about everything on my grocery list. For the record, you can NEVER find a coupon for Estee Lauder Hydrationist. Which is the only lotion I wear on my face. Ugh. I did find coupons, price matches and free stuff for just about everything else! Cha-Ching!
Do you have some randomness that you would like to share? I would love for you to join in!
Here are the rules. They are simple.
~ Link to your Random 5 on Friday blog post.
~ I would be honored if you would link back to me in some way.
~ Visit, Visit, Visit! Have fun encouraging each other!