Good morning! It is a freezing cold day here! How about you? I know a few of you are enjoying SUMMER! We are staying inside today. I believe right now its around 2 degrees. The sun is shining though so I will take it!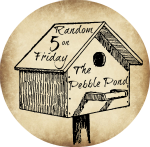 Are you ready for another round of Random 5!? Here we go....
1. I am so excited about all the new people joining us for Random 5! Every week it makes me smile to see more and more of you.
2. I started working out. Yes, again. I have had so much energy that it is ridiculous. I love it! I also lost 2 pounds in a week and a half. Can I get a high five? Bridesmaid dress...here I come!
3. I changed my emails subscriptions to MadMimi. See my cool new box in the side bar. I made that! Ok, I only got help from a friend plus customer support a million times but still. Isn't it awesome!? While you are looking at it, go ahead and sign up. That was cheap wasn't it?
Seriously. MadMimi has THE best customer service. Every person I talked to was very willing to help and extremely encouraging. I may just chat with them for the fun of it. Just kidding. Maybe.
4. I changed up our curriculum a bit. I just decided to dump what was not working. I used to stick with stuff because I didn't want to keep changing things. Well I am so glad I freed myself from that feeling. Obviously, I don't want to go from one thing to the next but I must say it has been very freeing! Our school is actually FUN again. The kids are happier. I am happier. Its good.
5. Did you see my
candle giveaway
? I am giving away 2 Banana Nut Candles! They smell heavenly. You don't want to miss your chance. :)
Do you have some randomness that you would like to share? I would love for you to join in!
Here are the rules. They are simple.
~ Link to your Random 5 on Friday blog post.
~ I would be honored if you would link back to me in some way.
~ Visit, Visit, Visit! Have fun encouraging each other!