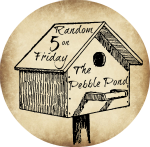 1. Our van broke down last Friday. That was icky but if I can be real honest....I loved being stuck home ALL WEEK!
2. I got our school room also know as the dining room ALL organized! I love it. Everything has a place. Which means I can actually find what I am looking for! That makes me happy.
3. I worked out so hard over the weekend that I could not move for 2 days. Seriously. It was bad.
4. I made spaghetti the other night for dinner. We sat down at the table, prayed and I took a big ol bite. It hit me real quick that I used my candle mixing spoon in the spaghetti! I thought it smelled awfully good while I was cooking. ;)
5. I have been in love with the color orange lately! I have been looking at paint colors and decorating ideas. Now that I am having this love affair with the color orange, I need to find somewhere to use it! You think Brian would like coming home to an orange living room? Or better yet....bedroom? ;)
Do you have some randomness that you would like to share? I would love for you to join in!
Here are the rules. They are simple.
~ Link to your Random 5 on Friday blog post.
~ I would be honored if you would link back to me in some way.
~ Visit, Visit, Visit! Have fun encouraging each other!

Don't miss any of our crazy adventures!