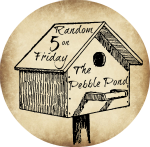 1. We experienced the coldest weather ever in my generation this week. It got to -25 with the windchill. We didn't leave the house for a few days. My poor husband had to go to work and the area where he works has NO heat. Craziness! He wore thermals and a coat but he was still freezing. I am so blessed to be married to a great provider.
2. School has been basically a joke this week. I am trying to not get discouraged and just keep pushing through. I made a promise to myself that NEXT week is going to be better. That we are going to jump in and actually get something done. Then I started filling up my calendar with an appointment here and an appointment there. Some day maybe we will have nothing else to do but school. I'm not holding my breath.
3. Alyssa is writing a book. She is always writing something. This book though is very intriguing. I can't wait for her to finish it!
4. My house is basically sparkling at the moment. All the credit can go to my kids. :)
5. I have been day dreaming of gardens and flowers and color! How about you?
Are you considering linking up? I would love for you to join in!
Here are the rules. They are simple.
~ Link to your Random 5 on Friday post.
~ Add a link back to me somewhere in your post.
~
Please make sure to put the direct link to your blog post not just your blog
. I like to read and comment on all of you but I can not always do it right away and I do not have time to look for it. Thanks!
~ Visit, Visit, Visit! Have fun encouraging each other. :)
Don't miss any of our crazy adventures!