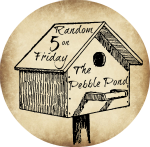 1. I made
this recipe
last night for dinner. Brian raved and raved about it. He told me I could make it once a week if I want. The kids hated it.
2. Have you been enjoying our ornament series? We have! So much fun. I'm already of thinking of ideas for next year. Although I plan on NOT getting the flu next round.
3. Ever time I have a bunch of errands to run it is supposed to snow. Such a bummer. So today is a bit undecided until I figure out the weather. You would think this Ohio girl would like to drive in the snow. Technically, I do. Just not in my van. Brian's car? Sure, let's go!
4. Have you started Christmas shopping yet? I have not. I guess I should get on that.
5. NO SCHOOL DECEMBER! Love it. As soon as Christmas is over I will be itching for routine but I love this time while it is here. :)
~~~~~~~~~~
Are you considering linking up? I would love for you to join in!

Here are the rules. They are simple.
~ Link to your Random 5 on Friday post.
~ Add a link back to me somewhere in your post.
~ Please make sure to put the direct link to your blog post not just your blog. I like to read and comment on all of you but I can not always do it right away and I do not have time to look for it. Thanks!
~ Visit, Visit, Visit! Have fun encouraging each other. :)




Don't miss any of our crazy adventures!