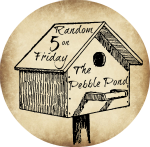 1. Christmas was amazing. Truly one of the best ever! We spent time with family that we have not seen in years. There was so much laughter and joy. We had a "secret santa" completely knock our socks off! It was such a blessed Christmas.
3. Did you get any exciting presents? My family blessed me abundantly! My favorite gift though would have to be my cowgirl boots from Brian! Love them!
3. I am excited for routine. We are not going to start back to school until after the new year but I am busy getting this house back in order and school planning.
4. I'm excited to start running again. I took a break for the holidays and basically enjoyed just gorging myself. Haha! Really I was left feeling bloated and more like a stuffed turkey but boy did those pies, candy and holiday foods taste WONDERFUL! The biggest thing I am going to change in my soda intake. It's bad, people. Really bad.
5. It feels like a Spring day here! It's kind of making me ache for warm weather. I'm not letting myself get to excited since in is still December!
Are you considering linking up? I would love for you to join in!
Here are the rules. They are simple.
~ Link to your Random 5 on Friday post.
~ Add a link back to me somewhere in your post.
~
Please make sure to put the direct link to your blog post not just your blog
. I like to read and comment on all of you but I can not always do it right away and I do not have time to look for it. Thanks!
~ Visit, Visit, Visit! Have fun encouraging each other. :)

Don't miss any of our crazy adventures!