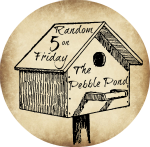 1. First off, I want to apologize for not being able to finish the Ornament Series. I feel horrible about it but it is one of those things that I just have to put behind me and move on. I planned on catching up but then I had puking kids. It was just a mess here almost the whole month of December. So the ornament series is done. We feel short a bit but had a lot of fun on the ones we did do! And I am happy to announce that everyone is HEALTHY!
2. Christmas. 5 days. EEK!
3. Yesterday, we had a wonderful time with my Grandma. Every year, we meet half way and go out to lunch and shop with the kids. They show Grandma a few things they would like and she secretly buys something off their list. It is always so much fun and we look forward to it all year.
4. Tonight is our first Christmas celebration for the year at my Momma's house. Can't wait.
5. You should see my house. It is in a state of complete chaos. On the table, we have Oreo balls and chocolate covered pretzels hardening, candles and salsa cooling. On the counter, we have dishes, dishes and more dishes. The laundry is washing. The Christmas music playing. Its a good chaos.
I hope each one of you have a VERY Merry Christmas!

Don't miss any of our crazy adventures!