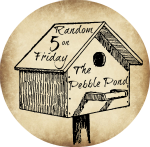 1. Okay so I had this notion to STOP doing Random 5. There are some new directions that I would like this blog to go. Well when I announced to some people that I was going to stop, I had more than one person email me or message (you know, Facebook) asking me to please continue. I was going to just hand over the host position to someone else but a very special person told me how important it was for them to read my Random 5 every week. SO I am staying. Call me crazy but how could I let her down. :)
I hope you will continue to follow along and link up as you are able.
2. Right now, I am watching a really cheesy Hallmark movie and I am loving every second of it!
3. Can you believe that I am still recovering from the flu!? Seriously. Isn't that crazy? I feel so behind on everything. I haven't done Christmas cards yet. Or started shopping. I am behind on the Ornament series. Ugh.
4. Our gas line to the house froze yesterday. No heat. For hours. The weather was around 15 degrees. Brr...It's crazy how quick the inside temps can drop when there is no heat running.
5. In FOUR days I turn 34. I am already starting a list of all the things I want to accomplish before I turn 35. I'm going to do a post on my birthday! Stay tuned. ;)
Are you considering linking up? I would love for you to join in!
Here are the rules. They are simple.
~ Link to your Random 5 on Friday post.
~ Add a link back to me somewhere in your post.
~
Please make sure to put the direct link to your blog post not just your blog
. I like to read and comment on all of you but I can not always do it right away and I do not have time to look for it. Thanks!
~ Visit, Visit, Visit! Have fun encouraging each other. :)

Don't miss any of our crazy adventures!