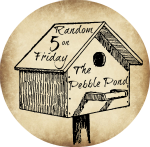 1. One of the coolest things to happen to me this week was having my blog nominated for a blogging award! I got nominated in TWO different categories,
Best Photos
and
Nitty-Gritty
. How cool is that!? You can vote every day until November 18th if you want to send some love my way.
2. I only have ONE more review to do this year for the
Schoolhouse Review Crew
. WOW! I can not believe how fast this year has gone by. Applications are still being accepted TODAY if you are interested in joining this AWESOME team.
3. I have a sick child. Again. If this is any sign of how our winter is going to be...I just may scream!
4. We had some issues with Brian's credit in the past. We have worked so stinkin hard and raised his score almost 100 points in 7 months! *insert me doing the happy dance*
5. Random Fact about me...I stand on the side of my foot when I am nervous or bored. Okay really I don't know the exacts of why or when but I do it. It is almost always my left foot. Brian laughs at me and says its cute. Weird.
Are you considering linking up? I would love for you to join in!
Here are the rules. They are simple.
~ Link to your Random 5 on Friday post.
~ Add a link back to me somewhere in your post.
~
Please make sure to put the direct link to your blog post not just your blog
. I like to read and comment on all of you but I can not always do it right away and I do not have time to look for it. Thanks!
~ Visit, Visit, Visit! Have fun encouraging each other. :)

Don't miss any of our crazy adventures!