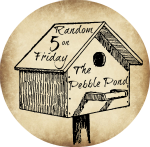 1. Thanksgiving week has been a bit crazy but I wouldn't change it for the world.
2. We went to 3 different houses. Each completely different and yet SO much fun.
3. I had a HUGE Pinterest fail. Do NOT...and I repeat do NOT...mix dry angel food cake with apple pie filling. Yuck. Yuck. Yuck.
4. I did however make a delicious chicken enchilada bake, chocolate cream pie, pumpkin spice muffins and cinnamon roll cake. What did you make?
5. Brian has a FOUR day weekend. Random 5 this week is quick and easy because I am busy savoring every single second.

Don't miss any of our crazy adventures!