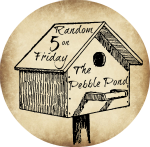 1. We have had an appointment every single day this week. I am tired. We took the week off school because there was NO WAY I would have been able to fit it all in. That is what I love about homeschooling. Funny thing is, we were still learning. Yes, we. I usually learn a thing or two right along with the kids.
2. I got some super news. I was asked to return next year for the TOS Review Crew. I was making myself a nervous wreck worrying about it. Brian reminded me that if God closes a door it's because he is going to open another one. It didn't really help much. I LOVE the Crew but he was right. I'm just glad I made it.
3. Last night at dinner, we were all sitting around chatting about this and that. Taylor says (completely out of NOWHERE) "Dad, what do you think about us adopting a child from China". Mind you, this has not even been discussed. Where she comes up with this stuff I will never know. To top it off, she would like a deaf girl from China around 2 years old. I love her.
4. I need a vacation. Ha! We have never even truly been on a vacation. Once we went to Georgia to watch my brother graduate from basic training. Then there was the time we drove all the way to Oklahoma but that was for surgery. Brian doesn't even remember much of it. We camp. Don't get me wrong I LOVE camping but I am talking about a sitting on the porch in a cabin in the mountains, listening to the birds, not a care in the world kind of vacation. Nothing to do. No where to go. Truthfully, there are many things I want BEFORE I would ever even go on vacation but a girl can dream, right!?
5. I absolutely love having a husband that is willing to learn right along side me. Through the years and A LOT of trial and error, we have taught ourselves so much. Gardening. Canning. Feeding tubes. Deer processing. Chicken butchering. The list could be a mile long. I won't bore you with all of that but I couldn't imagine what it would be like married to a man that sits in front of the TV every day after work. Heck, we don't even have a TV. Oh wait, that is that thing that I put in the closet because it doesn't ever get used. :)
~~~~~~~~
Are you considering linking up? I would love for you to join in!
Here are the rules. They are simple.
~ Link to your Random 5 on Friday post.
~ Add a link back to me somewhere in your post.
~
Please make sure to put the direct link to your blog post not just your blog
. I like to read and comment on all of you but I can not always do it right away and I do not have time to look for it. Thanks!
~ Visit, Visit, Visit! Have fun encouraging each other. :)

Don't miss any of our crazy adventures!