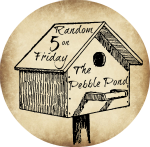 1. Today Brian and I celebrate our 16th wedding anniversary! Crazy. Amazing.
2. I don't feel good today. We are going to pretend that is not true though.
3. It's NOVEMBER 1ST!
Hello...Christmas music, baking, family time and all the stuff in between!
We have birthdays galore! Brian, Alyssa, Mom and my little brother!
4. So I am doing pretty good with this saving money thing I got going on. We have only gone into town ONCE this week. That is an accomplishment in and of itself.
5. Have I ever mentioned that I love the smell of coconut? It doesn't matter the time of year, it is my fave! I could be in the worst mood ever and the smell will make me feel better. I hate the taste though. Is that weird?
Don't miss any of our crazy adventures!