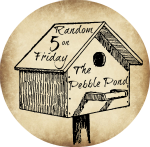 1. Did you notice my url? After a whole lot of effort I finally got it change to my own domain name! When I started my blog it was Memories By Miranda. Then I changed it to The Pebble Pond. Then I wanted to drop the blogspot.com and be all professional, ya know. Blogger decided that even though I bought the domain name back in March, it wasn't mine. I seriously was on the phone for hours. They would direct me to one place. That place would direct me back to the first place. I finally realized I was going to have to fix it myself. And I did. I was so stinkin happy! I may or may not have jumped on my bed to wake up my poor husband to tell him all about it.
2. The kids and I are so excited about the new blog series we are going to do.
12 Days of Homemade Ornaments!
They are already gathering supplies and giving me a lot of ideas. I have had a special friend ask me if I post a supply list ahead of time so she can be ready. Be looking for that over the next few weeks. The series will start December 1st. It's going to be fun!
3. My wonderful Alyssa turns 14 on Monday. I am going to attempt to make a really cool cake.
Rebecca over at Renaissance
always make the coolest cakes for her family on their birthdays and I decided I wanted to give it a try. I am not nearly as talented as her but hey it will give me something to blog about, right?!
4. I posted my last TOS review this week. I am very nervously waiting to see if I get picked to come back next year. We should know by the 22nd. Makes my stomach turn just thinking about it. I don't like to wait. Especially when it something I want really, really, really badly. I LOVE TOS! The people, the products..all of it.
5. Taylor FINALLY got a car seat that fits her! We have been going round and round with her insurance company for over a year. First we got one that did not fit and the company was a pain in my rear. Then the insurance needed more documents then I could count. We hit one road block after another. It was a crazy, crazy mess but it is here and installed. She is a happy girl!
~~~~~~~~
Are you considering linking up? I would love for you to join in!
Here are the rules. They are simple.
~ Link to your Random 5 on Friday post.
~ Add a link back to me somewhere in your post.
~
Please make sure to put the direct link to your blog post not just your blog
. I like to read and comment on all of you but I can not always do it right away and I do not have time to look for it. Thanks!
~ Visit, Visit, Visit! Have fun encouraging each other. :)