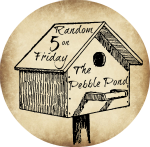 1. We kind of got some bad news this week. 1.Morgan was "officially" diagnosed with asthma. 2.Taylor had a DEXA scan last week. The results were kind of troubling. Next up, endocrinologist. Prayers welcome.
2. I am going on 3 hours sleep today. That seems to be a running theme lately. I really don't like it.
3. It is like 80 degrees here in Ohio. That is way too warm for this time of year. I am ready for fall weather.
4. Are you a sports fan? I am not typically. Well, not really. This year...I am loving me some Browns football! We don't even have cable! We listen to it on the radio. :)
5. Usually by this time of year, I am starting to second guess how school is running. Maybe even lose my enthusiasm a bit. Not this year! I am so excited with the changes we made at the beginning of the year. Everything is running smoothly and I still have my enthusiasm!
My baby is growing up!
Are you considering linking up?

Here are the rules. They are simple.
~ Link to your Random 5 on Friday post.
~ Add a link back to me somewhere in your post.
~ Please make sure to put the direct link to your blog post not just your blog. I like to read and comment on all of you but I can not always do it right away and I do not have time to look for it. Thanks!
~ Visit, Visit, Visit! Have fun encouraging each other. :)

Don't miss any of our crazy adventures!