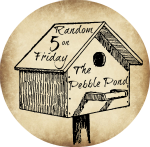 1. There was this weird white flaky stuff falling from the sky today. People keep saying its snow but I will not believe them until it is at least the middle of November or I can't get out of my driveway. Whichever comes first.
2. I am making homemade granola and it smells divine!
3. In the last week, we have had TWO very exciting things happen. One of my little sisters, Kassy, got engaged! Whoop Whoop! So exciting. I love, love, love weddings. I love every.single.little.detail! My other little sister, Krissie, is having a baby! Just found out yesterday. She is 4 weeks! I am gonna be an aunt! *happy tears*
4. I really want to do fall family pictures. The only problem? I hate finding clothes. Hate it.
5. I have been so emotional lately. What is up with that? Okay maybe it is not emotional but I don't really know how to explain it. I notice that I am not blogging about anything. I think that is because I want to savor every single moment with these little ones that are NOT little anymore. It kind of has me in a funk though. Its weird. Its like I am craving...memories, moments, time. Does that even make any sense? I didn't think so.
Anywho....Thanks for stopping by! I hope you have a FABULOUS weekend.
Are you considering linking up?

Here are the rules. They are simple.
~ Link to your Random 5 on Friday post.
~ Add a link back to me somewhere in your post.
~ Please make sure to put the direct link to your blog post not just your blog. I like to read and comment on all of you but I can not always do it right away and I do not have time to look for it. Thanks!
~ Visit, Visit, Visit! Have fun encouraging each other. :)

Don't miss any of our crazy adventures!