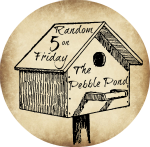 1. We had a wonderful week! Full of fun and family. Sunday we had a cookout at my grandparents house. My uncle was home from Vegas. We even played host one last night and had them all out for dinner. It was a great time.
2. School was a bit of a miss this week. Monday and Tuesday went perfect. Wednesday...not so much. Thursday? Don't even get me started. Today? Well, we shall see.
3. Ohio is completely, wonderfully perfect in the Fall.
4. I have this teeny tiny little sore on the side of my tongue and it is driving me batty!
5. I have fallen in love with hoodies and sweatpants. That is just wrong on so many levels. Would it be okay to wear to bed? Of course! Would it be okay to wear every once in awhile? Yes, definitely. It is NOT okay to wear every.single.day. I keep reminding myself of this. Guess what I am wearing right now? ;)
Are you considering linking up? I would LOVE for you do join us.

Here are the rules. They are simple.
~ Link to your Random 5 on Friday post.
~ Add a link back to me somewhere in your post.
~ Please make sure to put the direct link to your blog post not just your blog. I like to read and comment on all of you but I can not always do it right away and I do not have time to look for it. Thanks!
~ Visit, Visit, Visit! Have fun encouraging each other. :)

Don't miss any of our crazy adventures!