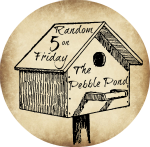 1. The little device I use to download pictures from my camera to my computer died on me. Isn't that a bummer. Good thing today is payday because I am going through withdrawls over here.
2. I got a letter today! A real life pen pal. How cool is that? The writer of the letter...well, she rocks just so you know! :)
3. Today I realized I still have a boat load of peppers in the garden. I guess I should get on that pretty quickly.
4. We had a crazy week. It was one of those weeks where you sit back and realized that you are very glad God is in control and not you.
~ We were minutes away from a deadly accident. That was unbelievably scary. 2 people died and the only reason that we were not in that spot at that moment was because we stopped to look at a house we drove by.
~ Bobo, Taylor's service dog, collapsed after choking. He stopped breathing and the only thing that saved him was Brian's hand down his throat. I panicked. Which I NEVER EVER do. Luckily, Brian was able to dislodge the object.
5. I'm late which is not unusual. Up today...PT for Taylor, met Brian for lunch, grocery shop, pay bills and a few extra errands. Have a great Friday!
Are you considering linking up?
Here are the rules. They are simple.
~ Link to your Random 5 on Friday post.
~ Add a link back to me somewhere in your post.
~
Please make sure to put the direct link to your blog post not just your blog
. I like to read and comment on all of you but I can not always do it right away and I do not have time to look for it. Thanks!
~ Visit, Visit, Visit! Have fun encouraging each other. :)

Don't miss any of our crazy adventures!