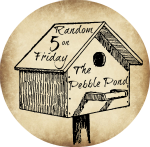 1. This week has basically been horrible. Isn't that a terrible thing to say? Well I can say it now because it is over and everything is finally on the up and up! :)
2. Wedding pictures. In 2 days. The hives are forming. (In case you missed last week...I was asked to take pictures for a wedding. Eek!)
3. Its midnight and I'm not tired. The reason? RedBull.
4. I have an amazing
giveaway
going on. You must check it out!
5. Sometimes it is just really, really nice to talk to old friends. It helped me to remember why I am, who I am. In a good way. :)
Instagram this week

Don't miss any of our crazy adventures!