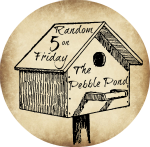 1. I am ever so grateful for everyone that read, commented and shared
this post
. Wow. Wow. Wow. You guys rock!
2. We have had a doctors appointment every.single.day. this week. So glad it is over.
3. I am in love with the weather we are having. Warm afternoons, cool evening, beautiful sunsets. Love it!
4. Umm....I could barely button my jeans today. We have only inched into baking season! I hope this is not a sign of things to come. I have apple pie, apple butter and comfort food to eat!
5. We have missed church for over a month. One thing after another. Then its gets to be easier to NOT go than to go. I've already started getting church clothes ready for this Sunday! Yep, we are not missing. I don't care if we are all sick. Okay, maybe I do but you get the idea. :)
Instagram this week
Are you considering linking up?
Here are the rules. They are simple.
~ Link to your Random 5 on Friday post.
~ Add a link back to me somewhere in your post.
~
Please make sure to put the direct link to your blog post not just your blog
. I like to read and comment on all of you but I can not always do it right away and I do not have time to look for it. Thanks!
~ Visit, Visit, Visit! Have fun encouraging each other. :)

Don't miss any of our crazy adventures!