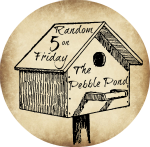 I'm kind of at a loss for words this round. I think my brain needs a refresh button! I can't even remember my week! Hmmm...this should be interesting.
1. We started Mystery of History this week. LOVE, LOVE, LOVE!
2. My garden is finally done for the year. I picked it clean yesterday. A little bummed. I love looking out my kitchen window and seeing its beauty! I did think about planting a fall garden but me thinks I should focus on school instead.
3. I have another wedding this weekend. This time no picture taking. I just get to enjoy. My step mom and I are making a date of it. Just the two of us. I can't wait! Now to find something to wear. What is proper wedding attire these days?
4. My back is MUCH better. Wow, that was rough. I have to start being diligent about exercise and making sure that I am lifting Taylor correctly so that I can still be lifting Taylor in years to come. It is a must.
5. I am loving peanut butter cookies right now!
Here
is the recipe I have been using. The only difference...I don't put them in the fridge for 3 hours. Nope, we cook them right away! Delicious!
Are you considering linking up?
Here are the rules. They are simple.
~ Link to your Random 5 on Friday post.
~ Add a link back to me somewhere in your post.
~
Please make sure to put the direct link to your blog post not just your blog
. I like to read and comment on all of you but I can not always do it right away and I do not have time to look for it. Thanks!
~ Visit, Visit, Visit! Have fun encouraging each other. :)

Don't miss any of our crazy adventures!