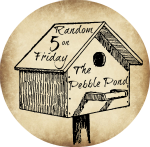 1. Being hurt this week, I found out a few things. #1 I am REALLY needed around here. #2 My husband is awesome and strange at the same time. #3 I HATE not being able to do things when I want and how I want. Okay, I already knew this but man does this stink! I want to DO something!
2. Brian made me a great dinner last night. Pork chops, corn on the cob and potatoes all over a fire that he and the kids made. He said it would be easier than cooking inside. Not sure of his logic BUT it tasted delicious!
3. I love malted milk balls and I just ate a whole container of them. By myself, thankyouverymuch.
4. I decided to back out of being a co-host for the Hearts for Home blog hop. I know, I know. I stopped before I even got started! Too many plates spinning, not enough hands to spin them.
5. I have not worn makeup or done my hair for 5 days. Pitiful. The plus side..Brian has brushed my hair for 5 days. Not being able to raise my hands above my head does have its benefits. ;)

Don't miss any of our crazy adventures!