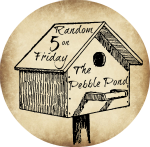 1. It has been a CRAZY, CRAZY week. Between doctors, to-do lists and back to school right around the corner, I seriously feel like I am losing my sanity. Its been one of those weeks where I feel like I can not keep all the plates spinning but I will. Eventually.
2. I feel like this is a very crucial year for us. It kind of makes me feel a bit overwhelmed. Do you ever feel that way?
3. We have not spotted a single snake ALL summer until a few days ago. Now we see one just about every time we go outside! They all have been to quick to be caught by little boy hands.
4. I don't think my tomatoes will have get ripe.
5. Can you believe Christmas is in 4 months? Craziness, I tell ya. Just crazy. That means that I will be 34 really soon. That is even more crazy. Do you feel your age? I sure don't.
Insta-Lately
Considering linking up?
Here are the rules. They are simple.
~ Link to your Random 5 on Friday post.
~ Add a link back to me somewhere in your post.
~
Please make sure to put the direct link to your blog post not just your blog
. I like to read and comment on all of you but I can not always do it right away and I do not have time to look for it. Thanks!
~ Visit, Visit, Visit! Have fun encouraging each other. :)