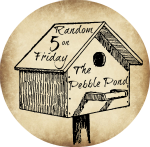 1. I only got 5 hours sleep last night. Momma bear may need a nap later.
2. Alyssa and Morgan BOTH want to get all their hair cut off. I love their long hair but it is a battle that I try not to fight. We have enough, you know? Pick and choose.
3. Remind me to never try and do my own highlights. Enough said.
4. I was asked to shoot (with a camera not literally) a wedding next weekend. I may break out in hives. I'll keep you posted.
5. This week, we had our first EVER harvest of potatoes and made salsa with everything from our own garden! How awesome is that?
Instagram this week