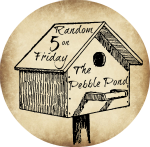 1. We are starting back to school on August 19. My to-do list is a mile long and I want the whole list completed before we start school. I'm going to be busy.
2. The last 2 nights the kids and I have been busy baking (and freezing) banana and apple bread! Between that and the fall weather we are having, I am getting more and more excited for changing leaves, fall festivals and all those snuggles I get when reading in the evenings.
3. 8 weeks and 1 day until we are out of debt! That is our first step to starting our Huppstead! Brian and I are working as team. He is working a lot of hours and I am trying to pick up the slack around the house. We are both tired but enthusiastic!
4. I want a goat. To milk. Yes, I am serious. :)
5. I love that my kids just randomly comment on my blog.
Insta-Lately
Considering linking up?
Here are the rules. They are simple.
~ Link to your Random 5 on Friday post.
~ Add a link back to me somewhere in your post.
~
Please make sure to put the direct link to your blog post not just your blog
. I like to read and comment on all of you but I can not always do it right away and I do not have time to look for it. Thanks!
~ Visit, Visit, Visit! Have fun encouraging each other. :)