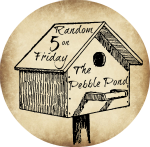 1. We started school on Monday! By day 3, I threw out my main curriculum that I LOVE but I realized it is just not going to work for us. It was actually VERY freeing and I'm really excited about the changes.
2. Alyssa has strep throat. Yuck.
3. My kitchen is a complete disaster. I would take a picture and show you but #1 I am too lazy and #2 You might think I am a slob.
4. I am kind of glad flip flop season is about over because I miss my boots. Which reminds me, I could really use a new pair this year.
5. I started Taylor on an at-home speech therapy program. I found it online, asked them if I could exchange the program for an honest review and they said YES! How cool is that? She is doing really well and I am loving the fact that I can work with her. Total win all the way around.
Instagram this week

Don't miss any of our crazy adventures!