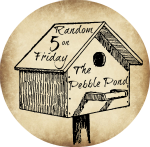 1.We are having fall weather here and I love it. Every ounce of it.
2. School is starting in 3 days and I am not even close to ready! Eek! But I am really excited about this year. Now I just need to get my butt in gear.
3. Carter caught a raccoon in his trap this week. I honestly do think I have ever seen the boy so excited!
4. I have so many blog posts running through my head and so little time! I want to add to the recipes, simple living and do this years curriculum post.
5. Are you loving Beauty Captured as much as I am? Wow. I am floored by your commitment and the interest that is still going strong after 2 weeks. I know there is a whole lot of beauty going on! Keep it up, ladies!
Instagram this week
Are you considering linking up?
Here are the rules. They are simple.
~ Link to your Random 5 on Friday post.
~ Add a link back to me somewhere in your post.
~
Please make sure to put the direct link to your blog post not just your blog
. I like to read and comment on all of you but I can not always do it right away and I do not have time to look for it. Thanks!
~ Visit, Visit, Visit! Have fun encouraging each other. :)

Don't miss any of our crazy adventures!