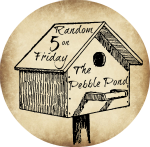 1. I had so much fun doing a little blog redesign this week. I spent so much time doing it but I have to say, I am pretty excited with the end results. I even came across a pretty cool website to create blog buttons. It is a
blog button generator
. You put your information in and it gives you the code to add to your blog. Easy Peasy.
2. In less than a week, my new blog hop....Beauty Captured....will be starting up. I'm pretty excited.
Here
are the details if you don't remember or haven't heard. I am still trying to come up with a really great button for it. I'm kind of at a loss. I was thinking something with a camera but I would like to incorporate the new birdhouse logo. Not sure. Any ideas?
3. You know how last week I was complaining about the heat. Yeah, well this week has been the complete opposite. I actually had to put a sweatshirt on the other day. Weird.
4. Canning season is upon us. So far I have done banana peppers, which is a first for me, and pickles. Today I am making hot pepper mustard. Yum. I must admit it is kind of nice canning in this weather!
5. I woke up this morning to the most wonderful smell. French toast! The smell was even sweeter since I wasn't making it. In case I have not mentioned this recently....I have some pretty awesome kids.
Considering linking up?
Here are the rules. They are simple.
~ Link to your Random 5 on Friday post.
~ Add a link back to me somewhere in your post.
~
Please make sure to put the direct link to your blog post not just your blog
. I like to read and comment on all of you but I can not always do it right away and I do not have time to look for it. Thanks!
~ Visit, Visit, Visit! Have fun encouraging each other. :)