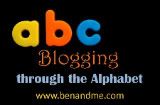 A fellow homeschooler and friend of mine, is hosting "ABC Blogging through the Alphabet" and since I am, oh so cool now with high speed internet (yes, I will stop telling you all about it...soon) I'm going to join in on the fun!
So I racked my brain trying to figure out how to start this. I asked my kids and Brian to give me words that started with an A. Everyone was really set on me blogging about alligators. Hmmm.....since I don't really know a whole lot about alligators, I think I will pass.
I decided to go with.....
ABOUT
That's a good starting point, right? If you follow my blog you probably already know a great deal about me. Probably more than you would like to know but just in case you are curious, here we go.
Things that I LOVE
~ My family
~ Ice cold Dr. Pepper
~ Taking lots and lots of pictures
~ Making memories and recording them
~ Fishing, camping, hiking
~ Nature
~ Eating...its true. I love to eat.
~ Boots and flip flops
~ Jeans and skirts
~ Pretty Woman
~ Cherry Icees
~ A good clean comedy
~ Singing (off key, by myself) at the top of my lungs
~ New socks
Things that I can NOT STAND
~ Driving slow on the highway
~ Biting my fingernails
~ Hypocrites
~ People that stare
~ Laundry (Ugh...if you have any children it should be a law that you can buy new clothes weekly)
~ Moles (The animal. I learned this today actually)
Somethings I bet you would never guess about me:
~ I wanted to go to college to be an accountant. I never made it to college. Instead, I am a stay at home mom to 4 wonderful kids. Our oldest daughter is special. Not only her needs but her heart, her smile, her laugh and her fear of turning colors. (Brian can be a bit of a meanie when it comes to teasing our kids. Today Taylor swore her skin was turning black. She has an obsession with anyone different. Which is weird considering her differences. Anyway, after he convinced her that she was indeed changing colors, she came to me. After I convinced her otherwise, we devised a plan to get him back. Stay tuned....)
Our middle daughter is the biggest helper I could ever ask for. God has given her a servants heart and I love to watch it flourish. Then we were blessed with twins. They give me a run for my money. Totally different, yet so much a like. Their personalities amaze me everyday. I couldn't have asked for better kids.
~ I was an Air Force brat and Brian swears that I still act like it. He likes to tell people that he is married to a second generation police officers', first born daughter so I am as stubborn as a mule. Hmmm....
~ I am a night owl.
~ I love shoes but I hate actually wearing them.
~ I dream big. Like BIG, BIG.
~ I am obsessed with canning, baking, cooking, gardening. I could totally live out Little House on the Prairie and be the happiest women alive.
I think that about sums it up. Now I'm off to figure out what to blog about week. The letter "B".....You dont want to know what the kids suggested. :)